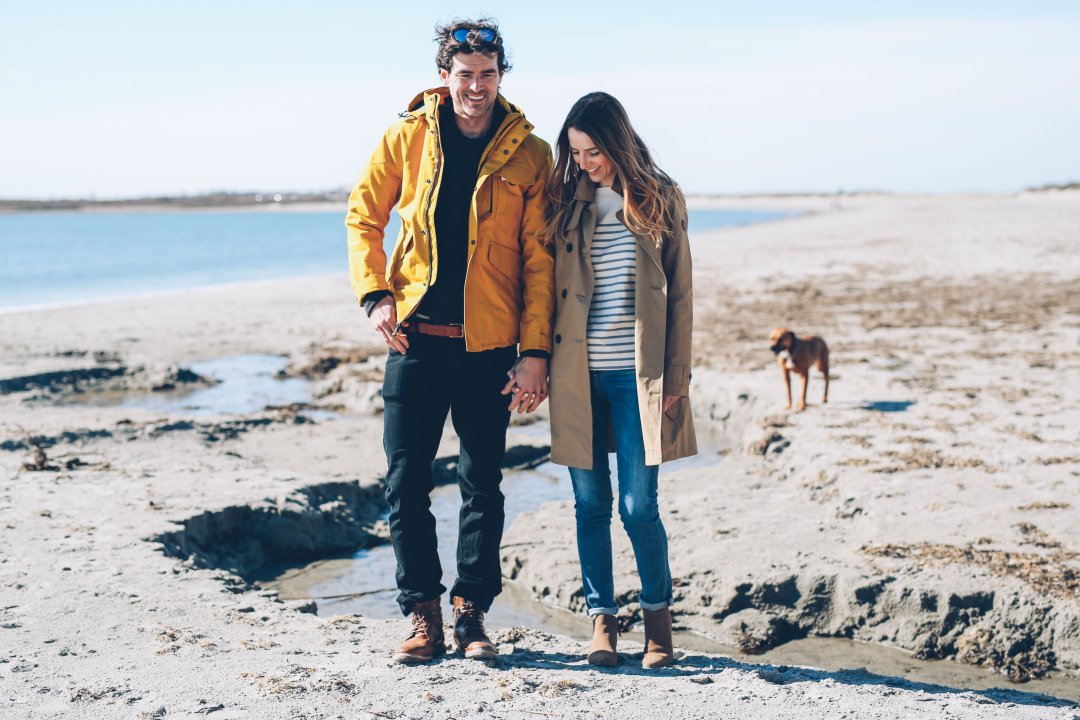 Keep Dry, Look Fly
His and Hers Waterproof Looks
Don't let a little drizzle get you down—here are style editor Jess Kirby's foolproof rainy day looks.
Don't let a little drizzle get you down, there are so many ways to stay stylish on those rainy days and they don't involve a) carrying a newspaper over your head, b) cowering under a storefront to stay dry, or c) staying indoors and pretending you "weren't going out anyway", like a wuss.
What's great about these pieces from Timberland is their classic appeal makes them perfect for everyday wear, but ideal for those times when the weather just isn't on your side. Rain or shine these looks will keep you looking fly and dry.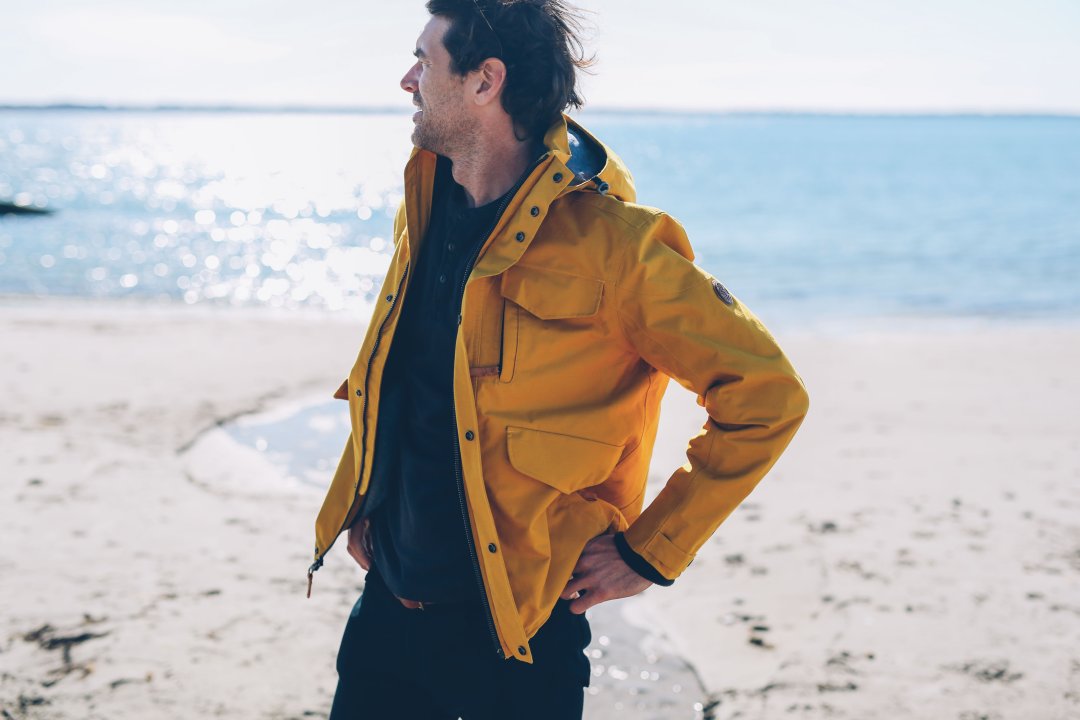 Going for the Gold
This mustard yellow color has been trending for the past few months and I really like it on Craig. It's flattering and bold without being flashy. The color and style feels very "New England." He wore it with a casual cotton henley, black jeans and some of his favorite Timberland® boots. A soft fleece lining makes it extra warm and the denim-lined hood adds a stylish touch. Not your average yellow rain coat, this piece is durable, breathable and all around cool. Compared to a traditional rain jacket, this one has a tougher look and feel, like you could wear it on a windy, cold, rainy New England day on the water, or trekking through the city on your work-day commute.
Orange is the New Jacket
The perfect neutral; this burnt orange hooded jacket is super versatile. Lined for extra warmth, it's perfect for a hike, window-shopping or a harborside walk. Pair it with skinny jeans and stylish brown leather ankle boots for an easy all-day look. Or for something a little more dressed up, this jacket would look great with a floral frock and over-the-knee boots.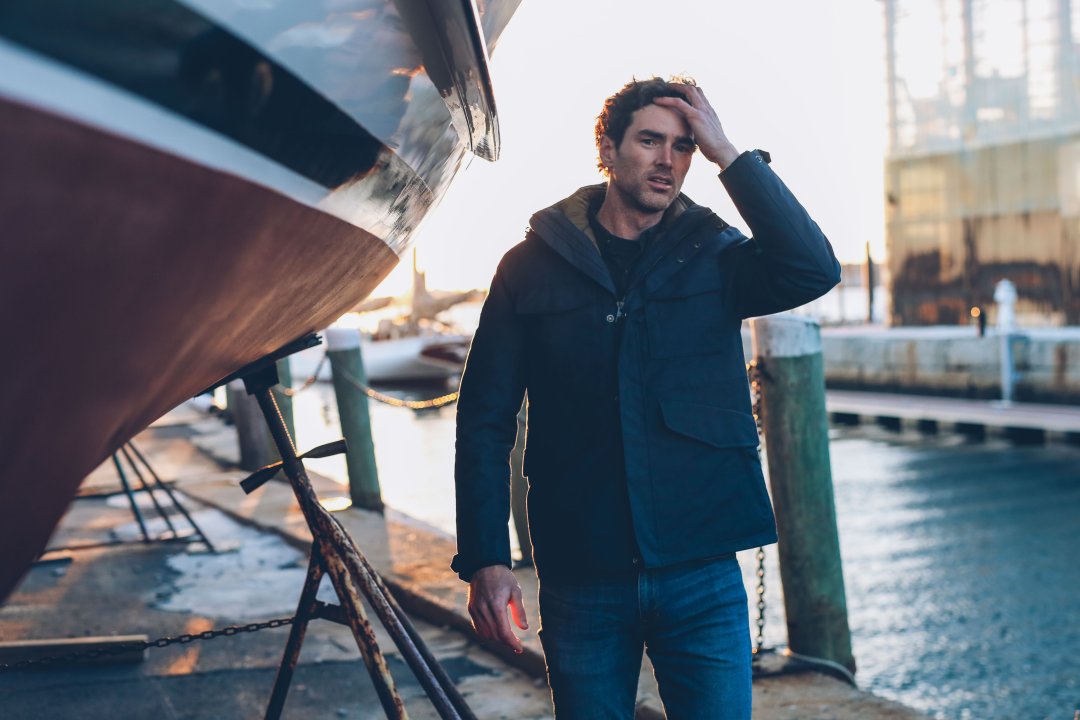 In the Navy
I'm in love with this waterproof lined coat in Navy on Craig. It's also perfect for me to borrow off of him when I go out and don't bring a warm enough outfit. How cute would it be with boyfriend jeans and ankle boots? Super durable and its cozy quilted lining means it's warm, functional and stylish.
For someone who's always on the go, it's the perfect jacket. Additional features like roomy pockets and a detachable hood were some of Craig's favorite things about it. He decided to wear it with jeans and a pair of his favorite Timberland® boots for our sunset stroll along the waterfront before dinner in town.
He loves it so much he plans on wearing it snowboarding this winter. Craig's style is all about comfort and quality over everything else, so it's no surprise he was digging this coat that kept him warm without feeling bulky or heavy, the lightweight quilted lining was one of his favorite features. Plus he can zip out the liner if the sun comes out.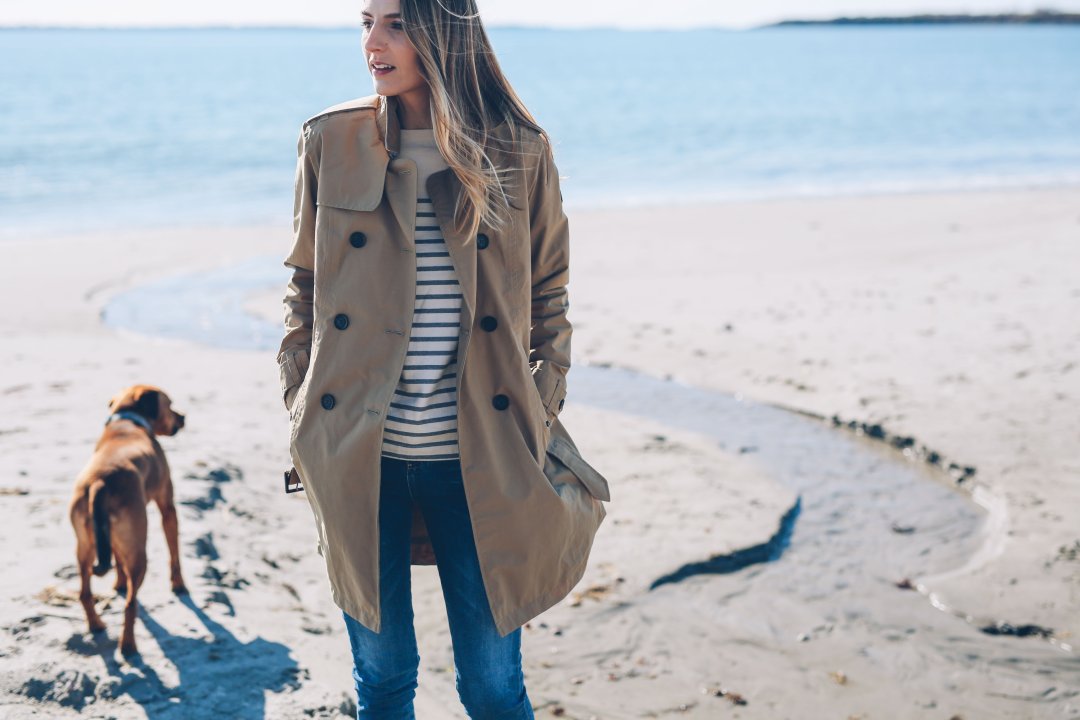 In the Trenches
There's just nothing better than the classic trench coat. A closet staple for every woman, the trench is wearable for any occasion – casual or dressy – and instantly elevates any look to Audrey Hepburn level chic. For a windy beach walk, I kept warm and dry in the waterproof trench and tan ankle boots.
It would be great with a dress or pencil skirt too for the work week or dressed up with heels for date night. It's one of those pieces you can wear over and over again. When it's chilly, a trench looks great over a fitted blazer with jeans and for days when it's a little warmer it looks stylish with a flowy dress and flats. The styling options are pretty much endless with a cute trench.