Timberland | SensorFlex™ Comfort System from Timberland
Leave no café, bar, gig or farmer's market unturned this fall. Our latest boots are ultra stylish and feature a specially designed comfort system.
SensorFlex™ Comfort System from Timberland
Serious flex appeal
Fall is the season to spend as much time outdoors as possible, savoring the crisp, cool breeze and the crunch of leaves under your feet as you play a spontaneous game of football in the park. These kind of days require boots that are stylish, comfortable and ultra versatile, which withstand your daily cycle to work and still look smart enough for an afterwork tequila tasting at the rooftop bar around the corner.
Classic style with unbeatable comfort is something we strive for in every shoe and boot that we make, and we've spent decades perfecting it. We've developed an exclusive technology that is incredibly comfortable (and specially tested to make sure) but still lets you wear your favorite looks, whether they're 6-inch boots, modern chukkas, or a rugged, waterproof style.
 "The SensorFlex™ technology took about three years to complete – that's about twice as long as it takes to develop a standard inline product," says John Healy, VP of Footwear Innovation. "The optimized cushioning and flexibility produces a special underfoot feel you won't find in other boots and because of the hybrid sole of EVA foam and rubber, the shoes are much lighter too."
The Foundation
Great things come in threes, including our SensorFlex™ comfort system. Here's how it works:
Constant Support
Active Cushioning
Dynamic Flex
1. Stability
The firm upper layer offers support and stability, so you can run around town without twisting an ankle.
2. Comfort
A specially designed suspension system allows for ultimate cushioning on your feet that move with you – no stiff soles or unwieldy bases here. This second layer is made for shock absorption and suspension. Perfect for trying out that parkour class you've been dying to take.
3. Traction
The bottom outsole is supremely flexible for responsiveness on any surface. The flex grooves are designed for extreme traction so that you don't have to worry about slipping in rainy, wet weather or unsteady terrain.
Find It
This fall, we've got several shoe styles with the SensorFlex™ comfort system that will have you out and about this season. Choose your favorite and hit the town without worrying about sore feet or brittle soles (no need to pack a pair of back-up shoes in your bag with these kicks).
Our Preston Hills Chukkas are suave yet agile at the same time. With soles carved with a hot knife cutter, these shoes are designed to be extra comfortable for long days in the city, but smart enough to take out on the dance floor at weddings (and with these soles, you could be dancing comfortably until dawn). With rich full-grain leather and brogue detailing, this lightweight shoe is a fall godsend. 
Our Killington 6-Inch Boots combine an athletic sole with full grain leather or nubuck, but we love them for their fresh, casual style. Go bold with color, or stick to the classics – either way, these boots are perfect for adventuring off the beaten trail (or a coffee run). They go great with the jeans-and-tee classic combo, but are sleek enough to pair with a leather jacket at night.
Think cycling into work means you have to wear scruffy sneakers? Stay stylish on the bike in our Britton Hill Waterproof Plain Toe Boots – they're designed to hit the road. Rugged, distressed leather combined with our Sensorflex™ Comfort System means this boot will take you from commute to morning meeting with the boss without missing a step. Bonus: A waterproof liner means wet roads and puddles won't ruin your day.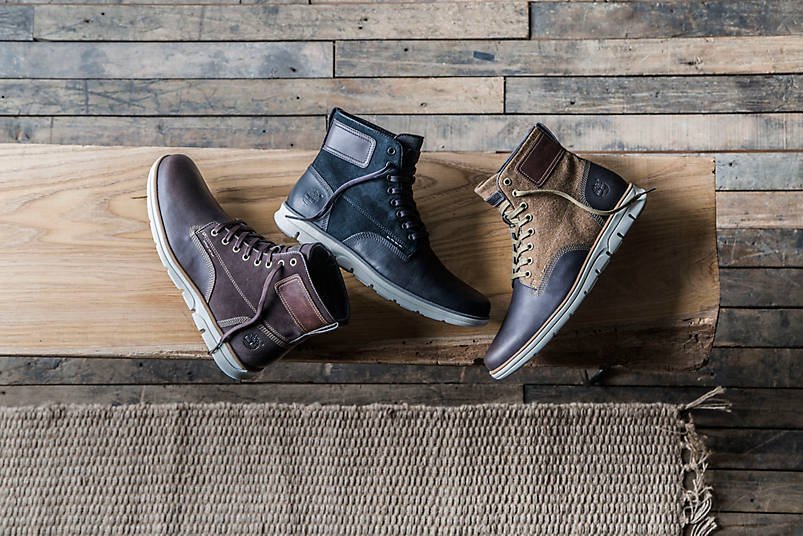 This fall, go for a dapper look in our Bradstreet Leather and Suede Boots. These boots are designed with a mix of dark leathers and suedes contrasted with white outsoles built for traction. The dramatic color scheme makes them look great with slim cuffed dark denim or classic chinos. With SensorFlex Comfort System, they're ideal for your impromptu music gig or happy hour drinks on the deck with friends. Upgrade your work outfit or weekend wear with a pair of these boots – don't worry about wearing them everywhere because you'll always be comfortable.
The best part is that our Sensorflex™ system is so seamless that you won't even have to think about it. If your feet feel good, that means more time spent enjoying yourself. Go on grab yourself a pair, we know you want to.
Loving the Sensorflex look and feel? Ready to take them for a spin? Check out Menswear Blogger Jamal Jackson's Guide to Bushwick, Brooklyn.